Directions by Car
Surf and Catcamp Veluwemeer
Aqua Centrum Bremerbergse Hoek
Bremerberg Dijk 35
NL 8256 RD Biddinghuizen
Tel. & Fax (April - Oct.): +31 (0)321 332534
How to reach us:
A3 - Oberhausen - Arnheim
A50 - Appeldorn/Zwolle
Exit No. 27 "Epe", take the road N309 and pass Epe towards t ́Harde.
Follow the signs "Walibi World" from Elburg on (N306).
When you reach the roundabout at "Walibi World" go straight ahead.
Take the first turn left (Bijsselseweg) towards the Aqua Centrum.
After 700 meters turn right (towards Aqua Centrum).
You can find us on the left hand side of the tennis court at the Aqua Centrum!!!

Campkoordinaten: 52° 24' 53.71" N 5° 44' 48.57" E

Directions by Public Transportation
Take the Connexion bus "No 147" from Harderwijk to Biddinghuizen or take the Walibi Express, bothe to bus stop "Bremerbergweg".
From there walk along the bike path on the dam (see figure) until you see the gate of the Surfcamp-Veluwemeer (see figure) on the right side.
www.surfcamp-veluwemeer.de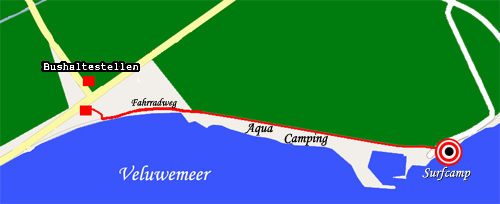 Directions from the bus stop "Bremerbergweg" to the camp
Gate of the Surf-and Catcamp Veluwemeer